An Admission Motivation Letter is a typical letter, which is addressed by a student to any college/institution or University etc for the sake of seeking admission in such educational institutions.
In this letter, candidates explain the reasons of his/her motivations, as to what and why inspire the candidate to pursue a specific programme from the given educational institutions.
This letter is analysed by the admission authorities of such institutions and if the letter satisfies the authorities, then-candidate is considered competent for the admission purposes.
Here in this article, we would provide some sample motivation letters and tips to our fellow admission seeking students. It would help them in understanding this letter and also in writing the one for themselves.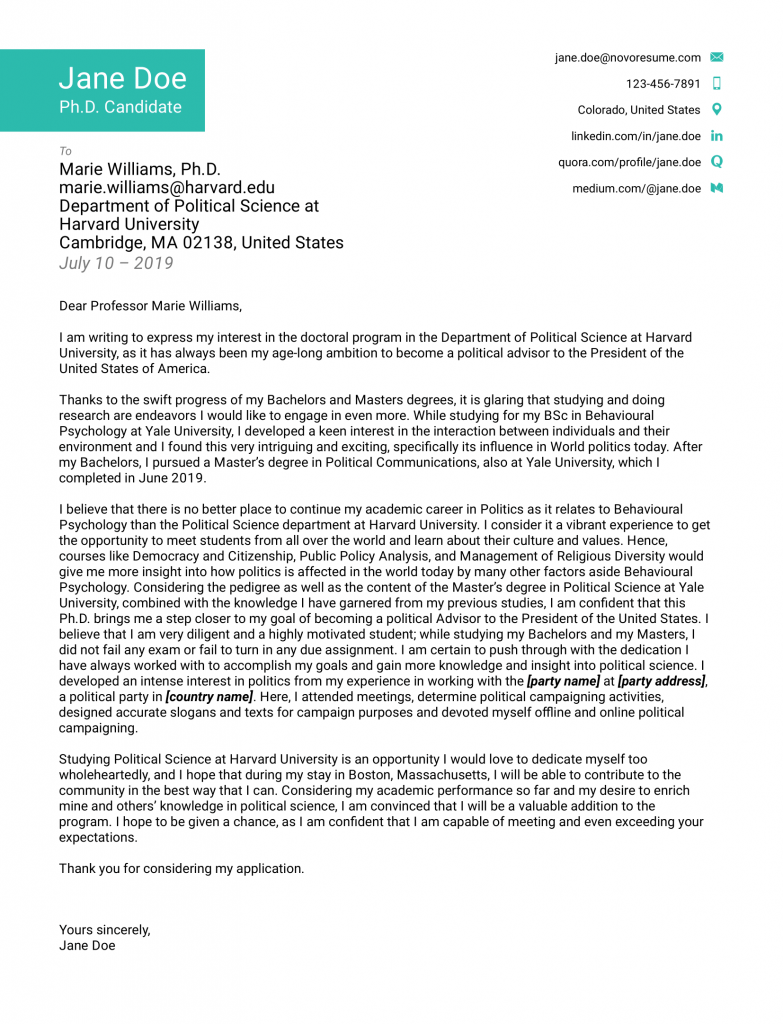 How to Write Motivation Letter for Admission?
Motivation letter can be a game-changing factor with your admission application in the course of seeking admission, therefore you must write it with your full heart and strong motivations.
Here below are some useful tips to consider while writing this letter.
First of all choose a decent and simple looking formal template to write the motivation letter on which your content should be easily readable.
Make your research about such institution or University, where you are applying for admission and accordingly make some key points which you have to mention in your motivational letter.
Start the letter with your clear cut motive of writing the letter with a respectful opening.
State your current educational qualifications and also the work or internship experience if there is any.
Now you need to unveil your strong motivation and reasons, as to why you are seeking admission for the particular programme and in the specific institution.
Your motivation should be genuine and not the pathetic reasons, which come from the external elements.
State that how the concerned programme from the institution will help you in your future prospective.
At last you can just end the letter with your positive attitude and gratitude towards the reader of the letter.
Motivation Letter for Admission in Master's
If you are applying for the master's programme then here is a sample motivational letter of master's degree for your basic reference.
Dear Sir/Madam
I'm addressing my motivational letter along with my educational credentials to apply for the master's programme in computer science at Oxford University of Technology.
I have recently passed out my graduates programme with a GPA above 5 from the Ace Institution of Technology.
I'm very ambitious and hardcore learning person who always wants to learn anything new in the domain of computer science and this is the only reason that why I chose this stream as my full time career.
I'm having decent testimony both from my previous institution and have also finished my one year of internship from the same institution the credentials of which have been attached in my CV.
I'm very much hopeful that the master's programme from Oxford University of Technology would add up to my knowledge of IT sector and help me in thriving as a computer techie.
With this I'm just ending this of my motivational letter and I believe that I would be considered as the competent candidate for the sake of granting admission within the institution.
Thanks& Regards
Tom Shetty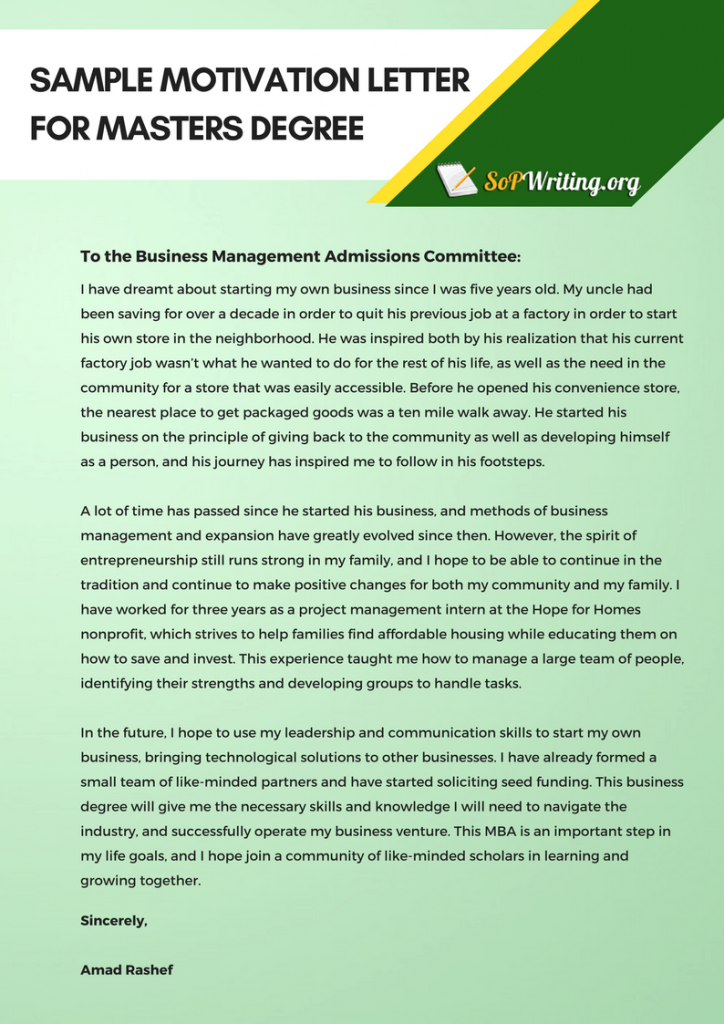 Motivation Letter for Admission in University
Well, if you are seeking your admission into your dream University then you should definitely check this sample of motivational letter which would assist you in seeking your admission there.
From
Kelly Trump
2nd Downtown street LA (California)
65437802 United States
To
George Belly
34/5 Middle Town Street (Washington DC)
78O72659 USA
Dear Mr. George Belly
I'm writing this motivation letter along with my admission application to seek admission at University of Washington for the graduate programme in management.
I have come across the admission opening from one of the regional newspaper and it was something that I waited for so long.
I have just passes out my +2 from James UW International school of learning and now I want to look forward at my career. I have always been extremely interested in the field of management, in fact I have shown my management skills during my schooling by managing my whole class as I always used to be class monitor.
It was always my dream to pursue my management's degree from Washington University to learn and enhance my management skills. Responsibility of management is the only title that I have always loved and enjoyed being under without feeling any kind of pressure.
Time has come for me to unleash my strong will and commitment to move on in the domain of management and take over the bigger role of responsibilities in this arena. This is the reason that why I have applied for my university's admission there as it is the only platform for me to take me ahead.
I believe that my motivational letter would live up to the expectations of admission authorities and I would be considered as competent for the admission purpose.
Thanks& Regards
Kelly Trump
Contact- XXXX
So, this was the other sample of motivation letter to seek University admission by a new school qualified candidate. We hope that the letter would provide you with some insight to draft your own letter in a similar manner.